Premier, Proprietary Eye Care Provider Pay Per Click Strategies (PPC) That Will Give You a Huge ROI

What is Pay Per Click Marketing (PPC) For Optometrists?
Pay per click marketing are the ads that you see above and below the organic search results in when you perform a search in a search engine. They even say "ad" next to them! PPC is one of the most cost effective methods for eye doctors and ECP's to reach new patients, quickly and within a set budget. With PPC you only pay when an interested prospect clicks on one of your ads. When it comes to pay per click search engine marketing, Optometry Marketing Success is one of the top rated pay per click marketing companies in the world for optometrist, and eye care provider pay per click marketing campaigns.
Pay Per Click VS SEO (Search Engine Optimization)
There is a long running battle between PPC and SEO. Which one is better? Which one is right for your business? The truth is, if you are an optometrist, or a large eye care provider, they are both right for you and part of an overall online marketing strategy. This is because research has shown that a percentage of people searching will click on ads, and a percentage of people will click on organic results. If your organization only shows up in one, and not the other, you will be missing out of about 50% of the people looking for the product or service you offer.
In an online marketing campaign, think of Search Engine Optimization (SEO) as a long term strategic approach (think of it as a marathon). Think of Pay Per Click (PPC) as a rapid response to acquire new prospects, get more leads, book more appointments, etc (think sprint).
Vital Differences Between Pay Per Click and Search Engine Optimization
Where your business or practice shows up in the search results- the purpose of SEO is to get your company's website to show in the main portion (organic) of the search results. With PPC you ads will show above and below the organic. With SEO, the search engines determine where, when, and for what terms your website will show for, and with PPC marketing you can man manually adjust those variables.
Time to achieve results- With SEO, in most cases you will not see notable results for 90-120 days. With PPC marketing for eye care providers, such as Google Adwords you can see results as soon as your campaign is set up and running- usually 7-10 days
Credibility- Generally speaking, research has shown that placement in the organic search results lends more credibility to your business. Organic rankings are based on quality and relevance signals that are sent the search engines. With PPC for eye care providers, you simply bid on a keyword, or keywords, and you are given a guaranteed position in the search results.The higher position that you are, the more clicks you will get for both SEO and PPC marketing
Investment- There are generally initial set up costs, and ongoing investments for both SEO and PPC campaigns. With SEO there is no cost per click and no cost per visitor, the only costs incurred is from your SEO provider to keep your site at the top of the search results.With PPC marketing you will pay per click on your ad. – The more budget you have, the more times your ad will be seen, and the more clicks you will get.
Why Choose Pay Per Click Marketing For Your Eye Care Practice?
Pay-Per-Click marketing for eye doctors and eye care providers is a very effective way to get immediate traffic and kick start you digital marketing efforts. You want to make certain you work with a person or company that is certified in Google Adwords and Google Analytics, which Optometry Marketing Success is certified in both. Also keep in mind that as an eye care provider running a pay per click marketing campaign, you will be able to test traffic data and conversion factors. This will allow you to be better prepared to launch an SEO campaign, as well as make changes on your website that will help convert more visitors into new patients. If you would like to see how effective your website is for SEO right now grab our free search engine optimization audit
Why Choose Optometry Marketing Success For Premier Pay Per Click Marketing Campaigns?
Pay per click marketing campaigns for eye doctors and eye care providers up and running in 7-10 days!
Hundreds of thousands of dollars per month in budgets managed!
No long term contracts!
When we take over accounts we find a 10% – 20% ad spend waste!
We actively manage the bidding process to ensure you are paying the lowest cost per click, yet making sure you are not outbid by a competitor!
We use more than a dozen tools to locate the best keywords in your market area to provide the most effective pay per click marketing campaigns for eye doctors, optometrists and eye care providers!!
We work with you to develop a landing page strategy that converts visitors!
We constantly change and test new ads to improve your results!
Performance tracking with Google Analytics (see how many people visit your site, where they come from, how long the stay, etc)!
We use a proprietary checklist for all of the critical components (over 27 of them) of your campaign to maximize your ROI!
We use special software that allows us to collect information about your competitors and see exactly what ads they are running, what keywords they are bidding on, and what results they are getting. We use this information to create higher conversions for your campaign and get you a higher ROI!
Hundreds of different ads that have been tested. When it comes to pay per click marketing for the optical industry We know what ads work and which ones flop so you don't waste your money on non performing
Unlimited free training and support!
100% satisfaction guarantee- if it's not right we will make it right free!
REQUEST YOUR FREE COPY OF OUR BLUEPRINT!
(Updated For 2023)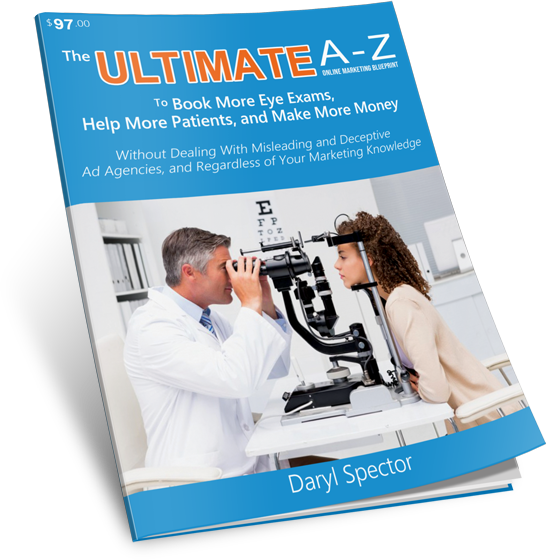 Get the Exact Blueprint Our Team Uses to Book Tens of Thousands of Eye Exams and Generate Millions of Dollars in Revenue for our ECP Clients Year After Year.