Is Online Marketing Right For Your Practice?
Online marketing is not right for every eye care practice. If anyone tells you it is, they are speaking without knowing the facts. As I'm sure you know, online marketing requires an investment. Any of the strategies we implement, suggest, or that you find on this site will require some sort of monetary investment, even if you choose to do them on your own.
If you run what is referred to as a "cheap and cheerful" practice, meaning that you give great customer service and all of your patients love you, but you don't believe in making any type of marketing investment into your practice, then online marketing is not right for you, and most of the strategies we suggest will not work for you.If you are already too busy or you have as many patients as your capacity allows, and you don't have the capacity to handle anymore then online marketing is not right for you.
Lastly, if you have absolutely no marketing budget then any type of online marketing is not right for you. The strategies that we use, recommend, and share in our trainings are all to require a monetary investment.
You don't have to be some multi million dollar practice, but you do have to have some money to invest in online marketing.
That being said, have you ever wondered what it would be like to have a dominant presence that positions your practice as the practice that comes to mind when someone is looking for an eye care provider in your market?
OR, have a flood of new patients calling your office on a consistent basis to book an eye exam? Or better yet book the eye exam right online on your website.
Or how it would feel to be absolutely certain that you had the most effective online marketing strategy to maximize your Roi, maximize your results, and level the playing field against some of your bigger competition?
Well,If you have ever asked yourself those questions there is a high probability that online marketing is right for your practice.
If you have more time than money and you are more of a do-it-yourselfer, there is plenty of free trainings and information on this site, that if you take action and implement, will put your light years ahead of your competition.
How do we know that?
Because working with more than 200 eye care practices across the U.S, combined with our real world experiences since 2008 has allowed us to collect so much data, that we know what works and what doesn't work. This is based on real world applicable experiences, not some theory or textbook.
If you have more money than time, go ahead and schedule a free, no obligation new patient acquisition fast-track strategy session and let us prove what we can do for your practice.
REQUEST YOUR FREE COPY OF OUR BLUEPRINT!
(Updated For 2023)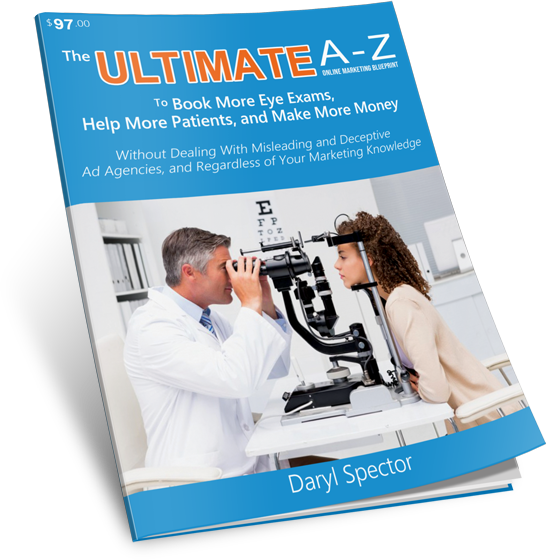 Get the Exact Blueprint Our Team Uses to Book Tens of Thousands of Eye Exams and Generate Millions of Dollars in Revenue for our ECP Clients Year After Year.

13+

200+
500,000+

97.4%