Use These 3 "Down & Dirty" Tactics to Quickly Increase Your Google Business Profile Exposure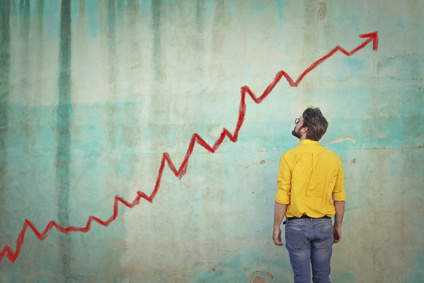 In this training I'm going to show you how you can increase the exposure of your Google Business Profile by using 3 "down & dirty" tactics. A Google Business Profile is a free listing you can get from Google for your business that can show up in the search results when someone is searching online for the product or service you offer.By increasing this exposure you will increase the number of people that can find your business online in the market that you serve. When those people find your listing online, they either call you directly from that listing, or they click through to your website, where they then take the action you want them to take. The end result, or the goal would be for you to increase your bottom line profits.Now if you haven't already done so, go ahead and check the current visibility of your Google Business Profile, by using our rank checker that you can access with the link below this video. You need a baseline report to start with, and the results you find might actually surprise you.

When you receive your report it should look something like this. I'm going to spend a second telling you how to read your report, and then I'm going to get into 3 really quick, what I call down and dirty methods to increase the visibility of your profile.You need to picture your business right in the middle of the grid that you see below.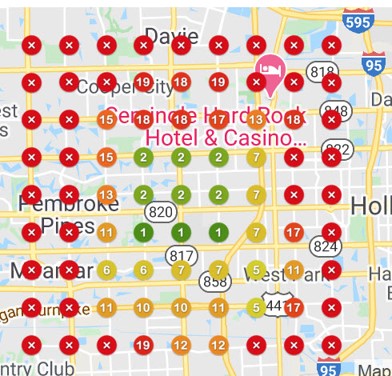 From the middle, each one of those bubbles represents a two-mile distance from your business location, and the number inside of each of those bubbles represents where your profile is ranking. So for example if your business is in the middle of the image in the video, it means your profile is ranking number 2, you're the second listing that people see when searching for the products and services your business offers in your market area.
However if you go 4 miles away from your business you're listed as number 13. That means there are 12 other businesses in front of you, and it's highly unlikely that anybody is going to scroll past 12 other businesses simply to find yours.
If you see a red X that means your business is not getting any exposure at all in that area.
What you really want is to go from a listing that looks like the above, to something that looks a little bit more like below. The bubbles are turning a little bit more green and yellow as your listing continues to improve in the results, and your business gets more exposure. You want a large radius from your business to be green, getting you the maximum exposure possible.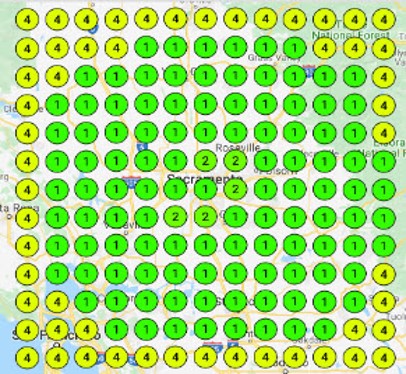 As I mentioned, there are three "down and dirty" things that you can do right now to increase your Google Business Profile quickly. However, it's important to remember that what I'm going to show you here is just the tip of the iceberg. This is the foundation and by no means is it the comprehensive end-all-be-all.
The first "down and dirty" tactic you need to apply is to PROPERLY complete your GBP listing. When I say properly that means there is a SPECIFIC way to do it, and I will hit on the highlights of that in just a minute.
The second "down and dirty" tactic you need to apply is to create citations and directory listings. This tactic will get your business in directories that Google considers authoritative, and will help establish what is called brand prominence.
The last "down and dirty tactic" I'm going to discuss here is the idea that you need to ACTIVELY and CONSISTENTLY get reviews.
These 3 tactics will get you the fastest results to increase your profile ranking.
Let's talk about properly completing your Google Business Profile. You need to complete every section that is applicable to your business. Specifically, there is a business description section, and in that description you want to maximize the number of words you can use in there, which at this time is 750 words, but it does change frequently.
Within that 750 word description you want to use industry-related terms. So let's pretend you are an eye doctor in Miami Florida. You want to get words in your description such as eye doctor, eye care, optometrist, eye diseases, and Miami Florida, etc.
You would also want to get words in there that mention additional services or products you offer, so for example again, if you are an eye doctor, you may treat macular degeneration, offer glaucoma testing, and eye exams. You want to mention anything that is remotely related to your industry and you also want to get a little bit of geographic relevance in the description.
As an example you might want to say you are conveniently located in Miami Florida next to the Walmart located at 5th and Main.
You also want to add photos to your listing, and you want to give them a relevant file name. So if you have a picture of someone getting an eye exam, you want to name it eye exam. If you have a picture of your doctors you want to name it eye doctors.
Next, you want to create your GBP website. When you are in your GBP dashboard you will see an option that says "website." The website is drag and drop for the most part, and when you're creating it I would suggest to keep a couple things in mind:
1) Create a "Make an Appointment" button and link that to your website
2) When creating your headline use a keyword. So again, if you are an eye doctor located in Miami use something like Eye Doctor Miami in that headline.
3) In the description title use a related keyword. So if you are an eye doctor in Miami you may use terms like eye care provider, eye exams in Miami Florida, Miami optometrists, etc. They are all closely associated with what you put in the headline which was eye doctor.
The largest space for content on your GBP website is the summary body. That's what it is called inside your dashboard. Here are some things to keep in mind as you complete this section:
1) You want to put at least a 1000 word article in the description and you want to link from that article back to your website.
2) You want to also link to a local, related, non-competing business. So for example if you are an eye doctor, linking out to a local pharmacy would be good.
3) You also want to list your service areas. So if you were in Miami, there are suburbs of Miami and you would want to list them in your description section. You might even want to list the zip codes in the areas you service.
4) Embed your Google Business Profile website onto your business website.
If you do these things I just mentioned you will be doing better than probably 90% of your competitors.
I also mentioned you need to create citations and directory listings. Citations are basically directories. Think of listings such as Yelp, Merchant Circle, Superpages and so on. As you create these listings, you want to make sure that you include your name, address, phone number, website, and a unique description.
You also want to include photos and you want these photos to already be on your current website if possible. You want to create 50-100 listings and you want to do that at 2 separate times. So each time create 50 or so listings, and create them 30-60 days apart.
Underneath the video on this page I have provided a list of directories and citations for you, and these are the ones that at this time are the most beneficial to create. They are the ones that Google likes the most and will give you the best result.
Lastly, I mentioned that reviews are very important. You want to ask yourself how consistently am I getting reviews and where are the reviews listed? Are the reviews only on Google, or are some of them on Yelp, Facebook, Merchant Circle, and other places. You need to spread the reviews around the web.
Are you getting them consistently? You really don't want to get 30 reviews in one month, and then 4 months go by and you don't get any. You want to get them consistently and you really want to try and get more reviews than your competitors have.
The quality of the review, meaning is it a good or bad review also plays a role in your exposure. If you're getting a lot of bad reviews Google is not going to show listings that have bad reviews. Google wants to give users the best experience possible and it's not by delivering results that have bad reviews.
You also want to try and get certain keywords in the reviews. I know this can be somewhat difficult as you don't have a lot of control over this, but it does make a difference. If you are an eye doctor, and you have patients who are going to leave reviews, you want them to use keywords there.
For example, "I had a very good experience at this eye doctor in Miami." Or, "I had the best eye exam I ever had from this optometrist in Miami." Think of all the keywords, and by keywords I mean words that people would use to search for the products or services that you provide, and you really want to try to get those into the reviews if possible.
The last item related to reviews is replies. It is very beneficial for you to go into your dashboard and respond to reviews. Not just for search engine purposes but for conversion optimization as well. You want people to know you are an active business that cares about its reputation. When you answer and reply to those reviews, you want to try to use keywords in those replies, just as you want customers leaving keywords in their reviews..
Now, If you are more of a do-it-yourself kind of person, maybe you have more time on your hands right now than you do money and you want to do all this on your own, this should keep you busy for a while and yield you big results. We also continue to publish videos such as this so check back often for more training.
It's important to remember what I said at the beginning of this training that, this is just the tip of the icebergs, and if you're not a do-it-yourself kind of person and you have more money than you do time right now, and you want a shortcut to these results, and you just want someone to do all this work for you along with the dozens of items not mentioned in this video, reach out by clicking the yellow button to schedule a session with us and we will show you exactly what we can do for you, and answer all your questions.
REQUEST YOUR FREE COPY OF OUR BLUEPRINT!
(Updated For 2023)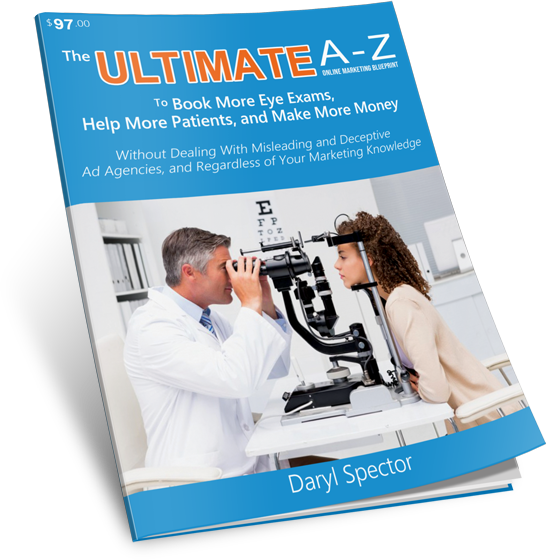 Get the Exact Blueprint Our Team Uses to Book Tens of Thousands of Eye Exams and Generate Millions of Dollars in Revenue for our ECP Clients Year After Year.

13+

200+
500,000+

97.4%